Dr. King, the late civil rights leader who led a national movement to guarantee basic and economic rights to African Americans, was no stranger to Detroit. And in the summer of 1963, he joined prominent ministers and community leaders for the Detroit Walk to Freedom, a mass march down Woodward Avenue on June 23.
The march drew an estimated 125,000 participants and spectators, making it the single largest civil rights demonstration in the nation's history prior to the March on Washington in Washington D.C. in August 1963.
The march was organized by the Rev. C.L. Franklin, the father of singer Aretha Franklin, the Rev Albert B. Cleage, and organizers for the Detroit Council for Human Rights (DCHR).
The walk ended at the city's convention center, where Dr. King gave the "I Have A Dream" speech while thousands listened inside and outside the arena.
The Walk To Freedom had three goals: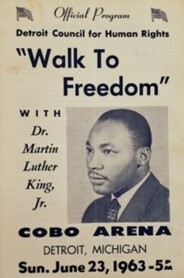 To speak out against segregation and the brutality that civil rights activists regularly experienced in the South.
To address concerns in the urban North, including employment and housing discrimination and de facto school segregation.
To raise funds and awareness for the Southern Christian Leadership Conference (SCLC).
Leaders chose the date of June 23, 1963, because it was the anniversary of the Detroit Race Riot of 1943. It also came four years before the 1967 rebellion that redefined Detroit and made clear how far the city needed to come on race matters.The statue was designed by Salt Lake City Artist Stan Watts, who convinced the businessman who owned it to donate it to Detroit because of the "I Have a Dream speech" being delivered in Detroit.